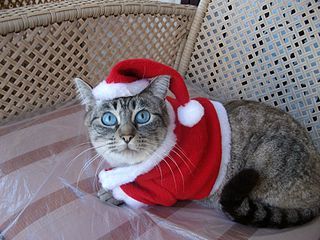 The holidays don't typically translate to eco-friendliness. It's a time of later shopping hours, massive light displays and increased travel—all things that only increase your carbon footprint. But with these five easy tips, you can make your Christmas a little greener this year.
1. Make your tree selection carefully.
There are several options when it comes to what kind of Christmas tree you buy and each has its pros and cons. An artificial tree, for example, will last forever. Although it might seem like a renewable investment, fake Christmas trees often look warn after a few uses and typically get thrown away. And because they are made out of a kind of plastic that doesn't decompose, they really will last forever—just in a landfill.
A live Christmas tree is usually considered a greener option. Although a tree must be cut down, it can be repurposed. Many cities offer a recycling program that turns Christmas trees into mulch. And the large tree in New York's Rockefeller Center is donated to Habitat for Humanity each year so the organization can use it to build a home. But the greenest option for the centerpiece of your holiday is to choose a potted Christmas tree. You can bring it into your home and decorate it however you want. Once Christmas is over, just remove the decorations and plant it in your backyard.
2. Use energy-efficient lights
Lights are a big part of the holiday season. But by choosing to use only energy-efficient bulbs this year, you can lower your carbon footprint and save on energy this holiday season. The priciest but greenest option is to invest in solar-powered lights for your outdoor displays. You can buy light stands, nets or even Christmas pathway lights that are powered completely by the sun, adding nothing to your holiday energy bill.
However, the most popular energy-efficient option is LED. They use 75 percent less energy than incandescent bulbs and last up to 25 times longer. While they cost a little more up front, they will certainly save you a lot on energy costs over their lifetime. Battery-powered lights are another eco-friendly option. Though they still require energy from batteries, rechargeable batteries can be used again and again to make this type of light an eco-friendly choice.
3. Choose environmentally friendly wrapping paper.
The majority of Christmas wrapping is just thrown away each year, including 38,000 miles of ribbon, according to the Clean Air Council. But there are plenty of eco-friendly alternatives that won't put a damper on your carbon footprint. For example, you can use recycled materials, such as paper grocery bags or the comics section of the newspaper to wrap your gifts. You might also consider presenting your gifts in cloth bags that can be used again and again. And if you simply have to purchase paper, go for a roll of plain brown paper. Not only is it recyclable, but it can be used to wrap gifts all year. You can even spruce it up by drawing holiday pictures on it.
4. Reduce food waste
Food waste is a huge problem year round, but it can be even worse during the holidays. With a number of parties and big family meals, it's not uncommon to throw large amounts of uneaten food in the trash. But there are easy ways you can reduce your holiday food waste. The easiest option is to buy what you need and nothing more. And if you do have extra, save the leftovers (or freeze them) so you can use them later. If nothing else, you can always donate your extra goodies to a family in need or an organization that helps feed the homeless.
5. Be green when you travel
Jet-setting all over the globe isn't the greenest way to spend your holiday, but there are some measures you can take to ensure your travel has minimal impact on the environment. For instance, instead of flying to your destination consider driving. Airplanes use a lot more fuel than your vehicle, so opting to drive can help reduce your environmental impact. You should also remember to unplug your electronics and appliances before you leave. Many devices continue to suck power from the outlet if they are left plugged in. And if you can, choose to stay in eco-friendly accommodations.
Keith Patterson is a freelance writer and designer for all things green. His work promotes responsible energy production and consumption while continually looking to better the balance between man, machine, and our environment.
Courtesy: http://2greenenergy.com
1 Comment to "Five Tips for an Eco-friendly Christmas"
RSS feed for comments on this post. TrackBack URI